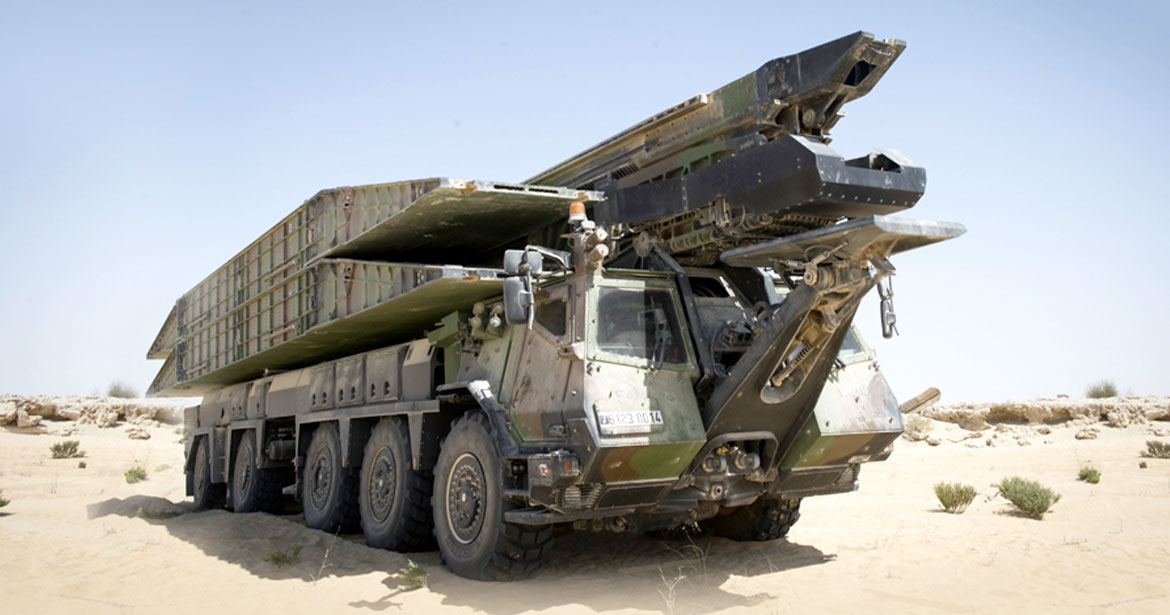 The originality of the system comes from the fact the length of the bridge is modulated based on the length of the obstacle to cross.CNIM has developed and manufactures the SPRAT (Rapid Span Placement System). The assault bridge includes a class MCL 70 modular span with a length of 26 m in two parts, deployed by a wheeled all-terrain vehicle. CLEARSY is responsible for functional integration of the vehicle.
This front-loading crossing material has the following characteristics:
excellent mobility due to the advancement in wheeled transport vehicles;
a carrying cost significantly less than that of tracked vehicles.
Developments
Development of the interfaces between the SPRAT spanner sub-systems and the distribution of intersystem functions to each system.
The network and electric parameters it uses and produces (CAN matrix, for example)
The measured physical sizes (sensors)
The carried activators
The basic operations that must be executed
The dependencies among the functions
Results
Architecture modeling is now used at CNIM for the design of malfunction studies (AMDEC).
It has allowed CNIM to define the architectural level of the vehicle rolling base, a task required today for the design of the SPRAT test plans. In addition, this study has allowed the implementation of technical documentation, which is frequently used by suppliers of various elements of this architecture.
Conclusion
This modeling of the SPRAT has helped the architecture to be implemented for the purpose of controlling the intersystem coherence. This modeling was the first complete representation of the electronic electric architecture of the SPRAT spanner.