SATURN is a new platform featuring high-robustness and availability for safety solutions.
Easy to configure and efficient as a railway remote I/O management solution, this platform dramatically reduces the vehicle cabling architecture and its associated cost.
SIL0, SIL2 and SIL4 product range EN50155 – EN50129 – EN50128
Documents and ISA* Certification
Certificat EC 8565/0152
Certificat EC 8565/0151
Certificat EC 8565/0150
Certificat EC 8565/0149
A range of I/O modules, which features
Input/output nodes (digital inputs, static outputs, relay outputs and analogue I/Os).
Railway EN50155 Modules (24-120Vdc)
A single DIN41612 connector per node (IO + power + communication)
EN50155 Railway modules (24-120Vdc)
SIL4 available in 2016 or before on demand
Safety integrity level : SIL0, SIL2 et SIL4.
A concentrateur/gateway
The concentrator manages the ring network
One-point communication between the platform and the end-user application
Gateway functions for field bus (Ethernet, MVB, CAN, CANopen, RS422/RS485…)
The concentrator supplies the electrical power to the ring network
Safety logical functions can be integrated into the concentrator module
A redundant concentrator used as backup module
An innovative ring network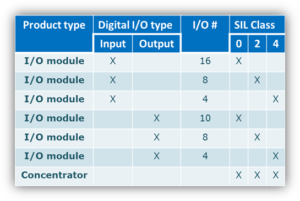 Two unidirectional reverse channels
Redundant ring of power supply
1 ms deterministic cycle for 32 IO modules
100% network operability during a line failure
Provider-consumer or master-slave protocol
Safety protocol, internal and external
Permanent diagnostic functions
Up to 1.000 m between modules
Up to 12 Mb/s for 100m repetition distance
Up to 128 modules per ring
Power supply of modules provided by the gateway
References
Recent partner's references on i/o systems:
PRASA – Afrique du sud (16000 unités déployées pour 3000 voitures)
LRT – OttawaNS-74 – métro de Santiago
Danemark (Architecture ERMTS)