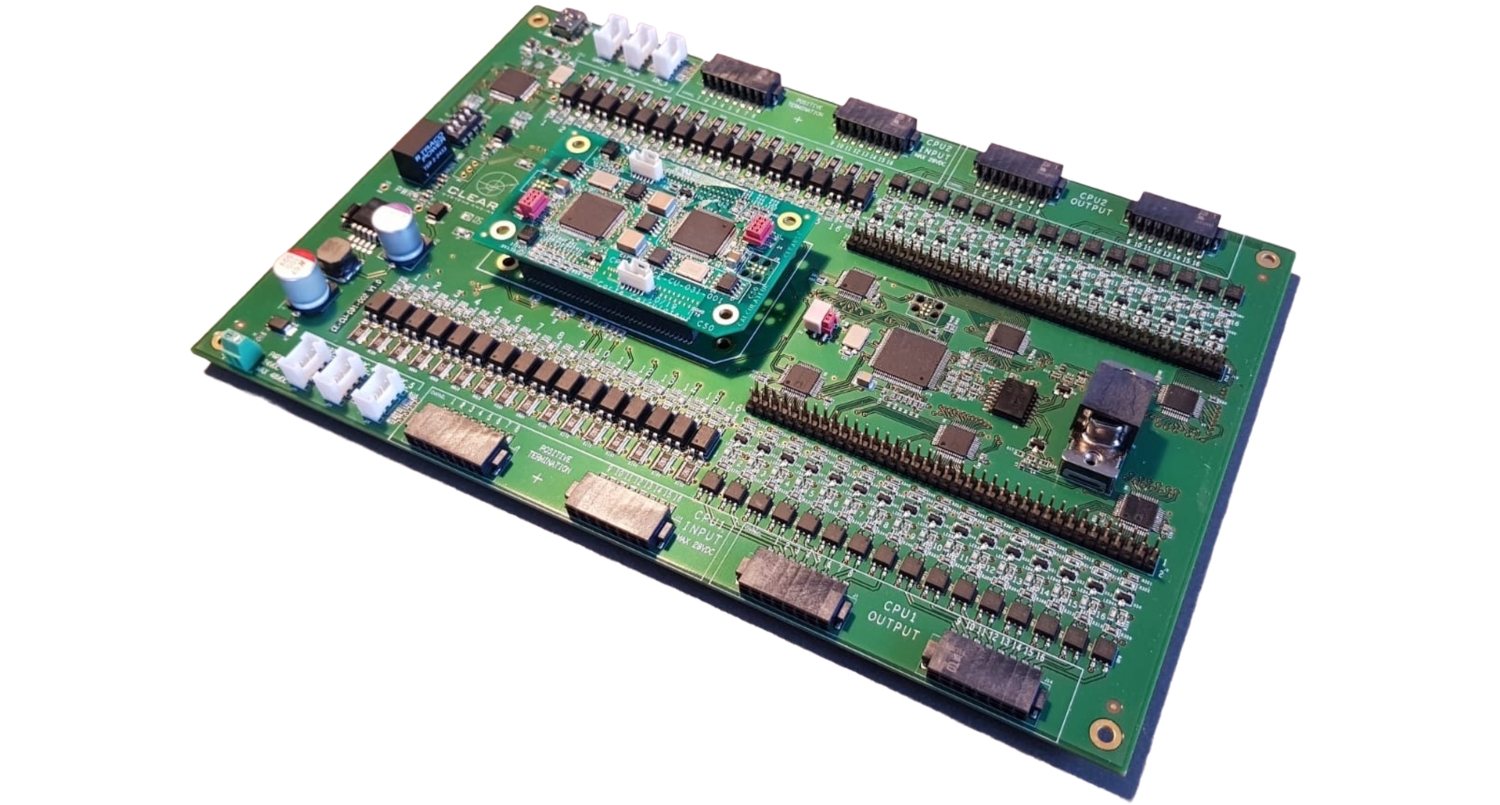 To start with industrial CLEARSY Safety Plateform
In its certified industrial version, the CLEARSY Safety Platform is available as a starter kit, which allows you to get to grips with the technology and become familiar with its principles and programming languages. This kit includes:
A credit card sized SIL4 computer with 2 PIC32MX795F512L processors, 512KB Flash and 128KB RAM.
A motherboard for test, housing the SIL4 computer (mezzanine), and providing it with power and 32 non-safety digital inputs and 32 outputs.
The user manual of the SIL4 computer, presenting the hardware characteristics, the software interfaces and the programming principles, as well as the conditions necessary for the reuse of the SIL4 certificate for own development.
The compilation environment, in the form of a VirtualBox virtual machine, which allows, with a web interface, the compilation of an application for the target computer. The compilation environment is fully functional. However, the security library provided has a different signature from the one that will be used to obtain the subsequent SIL4 certificate.
The training presentation containing the principles of setting up a project, the programming steps, as well as the deployment of the binaries produced.
Programming the SIL4 computer requires a Microchip programmer such as ICD4, a programming cable and the MPLAB IPE software environment. The starter kit is available in two versions, one of which includes the ICD4 programmer for immediate use.
Information and documentation
Selling Price of the Starter Kit
| | | |
| --- | --- | --- |
| industrial starter kit for education | 3 000 € HT | |
| industrial starter kit for education + ICD4 | 3 500 € HT | |
| industrial starter kit | 4 000 € HT | |
| industrial starter kit + ICD4 | 4 500 € HT | |
The industrial starter kit for education targets higher education institutions. Shipping costs are in addition. They are 50€ for an order of 1 card for any destination in Europe. For any information, order, other quantities or destinations, please consult us.
Our CLEARSY Safety Platform products are entirely manufactured in France.
Tools
Linked to this components