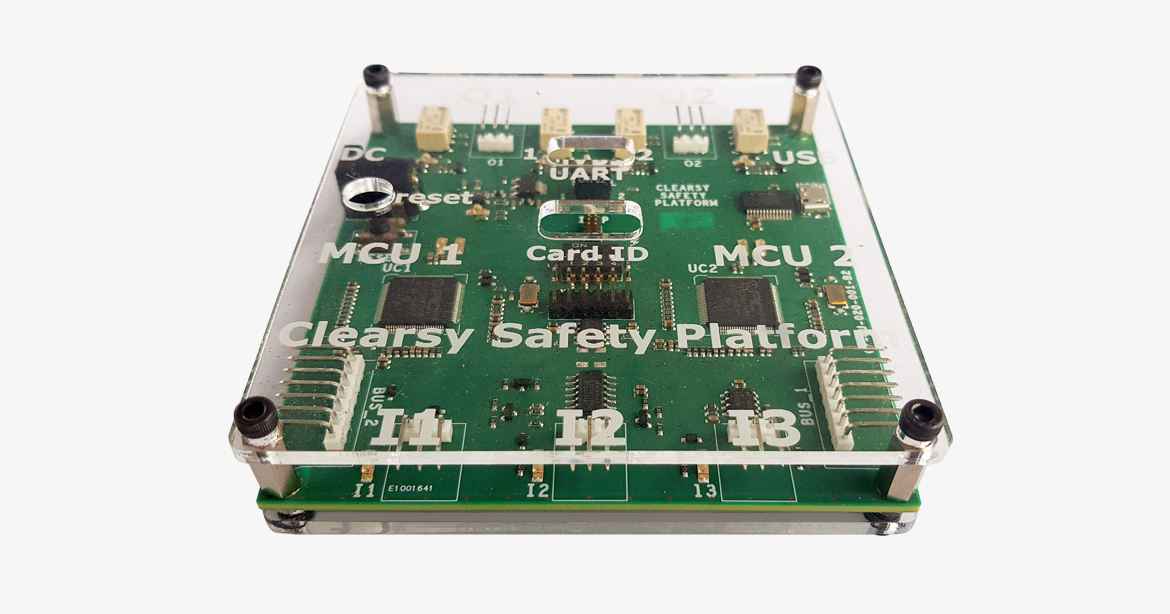 Computer for academic use: CLEARSY Safety Plateform
In addition to the industrial and certified version, The CLEARSY Safety Platform is also available in 2 configurations, for demonstration and academic use:
SK0 board standard
This fully functional board includes 2 processors, 512 Ko Flash, 128 Ko RAM, 3 digital inputs and 2 digital outputs. It is programmed with the Atelier CLEARSY Safety Platform IDE.
SK0 board with accessories
Adequate for instant practice. It includes:
1 pre-assembled SK0 board (Plexiglas with serigraphy, struts),
1 power supply 5V,
1 micro USB cable,
3 switches
Price for SK0 board
| Quantity | x1 | x10 |
| --- | --- | --- |
| SK0 board | 275€ HT | 2 500€ HT |
| SK0 board with accessories | 325€ HT | 2 900€ HT |
Prices are VAT excluded. Shipping fees are not included. They are 50€ for 1 or 10 boards in Europe. For other quantity or destination, please contact us.
Each SK0 board is provided with:
Its electronic documentation (PDF),
The Software Development Environment (Atelier CLEARSY Safety Platform). It includes a formal modelling environment supporting the B language, a double toolchain for compilation and a bootloader to upload software on the SK0 board. A recent Windows operating system is required.
Our CLEARSY Safety Platform products are entirely produced in France.
Downloads
Exploitation and dissemination
Certification
CLEARSY Safety Platform building blocks have been certified twice for the development of platform screen doors controllers installed on automatic metros platforms. These systems are installed in São Paulo (Brazil) on line 15 and in Stockholm (Sweden) on the CityBanan line.  These certificates demonstrate the ability to certify systems based on the CLEARSY Safety Platform.
North America market
The CLEARSY Safety Platform is being deployed in North America, by a North American industrial customer. The role played by the existence of the CLEARSY Safety Platform was essential to gain this new customer and win this contract.
Railway signalling
With the R&D project FUI LCHIP, the CLEARSY Safety Platform is experimented with a case study provided by SNCF (signalling system for temporary work area). The positive results obtained could lead to the adoption of the CLEARSY Safety Platform to develop signalling systems smaller than interlocking.
Versatility
With the R&D project PIA DEPARTS, the CLEARSY Safety Platform is used to control a level crossing (case study from SNCF). The high number of inputs imposed to build a stack of 6 SK0 boards, connected through a local bus. The stack is also connected to 3 devices (COMSET TOR) to acquire digital data remotely. This prototype demonstrates the flexibility of the CLEARSY Safety Platform with various use cases.
Autonomous vehicles
With the project Demoiselle (automatic shuttle for public transportation on roads and trails between the Aix en Provence TGV station and TheCamp), the CLEARSY Safety Platform could be used to improve the safety level of the shuttle through interactions with specific infrastructure and speed limit enforcement.
Mobile robots
Following past dissemination actions worldwide, several technical and scientific contacts were made for mobile robots: with the mecatronics department of IFRN – Natal (Brazil) and with the group Marine Robotic at University of Minho (Portugal). Moreover the group RoboStar* uses the CLEARSY Safety Platform as a translation target for their robotic Domain Specific Language RoboSim, through research activities with UFRN – Natal (Brazil).
Perspectives
The marketing of the SK1 board: with 28 digital inputs/outputs, it allows industry to prototype systems (contrary to the SK0 which is mainly aimed at education).
The continuation of the dissemination activities, through scientific seminars, conferences, talks given at universities and engineering schools, an by attending professional exhibitions.
The deployment in the railways together with SNCF and RATP.
The promotion in domains requiring critical systems like (nuclear) energy. As a reminder, CLEARSY is Tier 1 supplier for EDF (Electricité de France).
The set-up of a complete commercial offer integrating the results of the LCHIP project (IDE and electronic board (CLEARSY), improved proof (OCamlpro, LRI), connection to DSL (IFSTTAR) and host testing facility (LIP6)).
The development of the PLC, CLEARSY Safety Platform Core, a daughterboard to plug to a motherboard to be used for the development of safety systems up to SIL4.
Thematics
Link to this components
Tools
Linked to this components