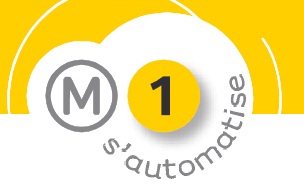 With 725 000 passengers daily and 111 years of existence, the most famous metro line of Paris, the first one ever set up in France, the Line 1, had to renew itself. It has been done this November 3rd; the first new MP05 rakes were inaugurated. They present a multitude of advantages: driverless, air-cooling and a low-noise system, and a better capacity (734 passengers standing up or 216 seating).
However, the main asset of this automation is the reduction of turn-over time between two trains from 105 secs to 85 secs.
But the great prodigy stands behind: Between 2007, year of the beginning of the process with the installation of PSDs along the metro stations, and 2011 the inauguration of the new rakes, there has not been a single interruption of traffic or any delays. Moreover, currently, both automatic and manual trains roll on the same rails (first time ever!). Furthermore, an agreement has been reached between the drivers and the RATP board to progressively elevate the drivers to new jobs such as "exploitation supervisor" or to redirect them to other lines.
In a nutshell, the project is a total success. No doubts, the companies involved in the process will benefit from their work as a showcase of their respective abilities: Siemens for the automation, Alstom for the rolling stock, Kaba Gilgen for the Platform Screen Doors (PSD) and last but not less, CLEARSY for its efficient and safe (SIL4) Platform Screen Doors Control System (PSDCS) – DOF1.