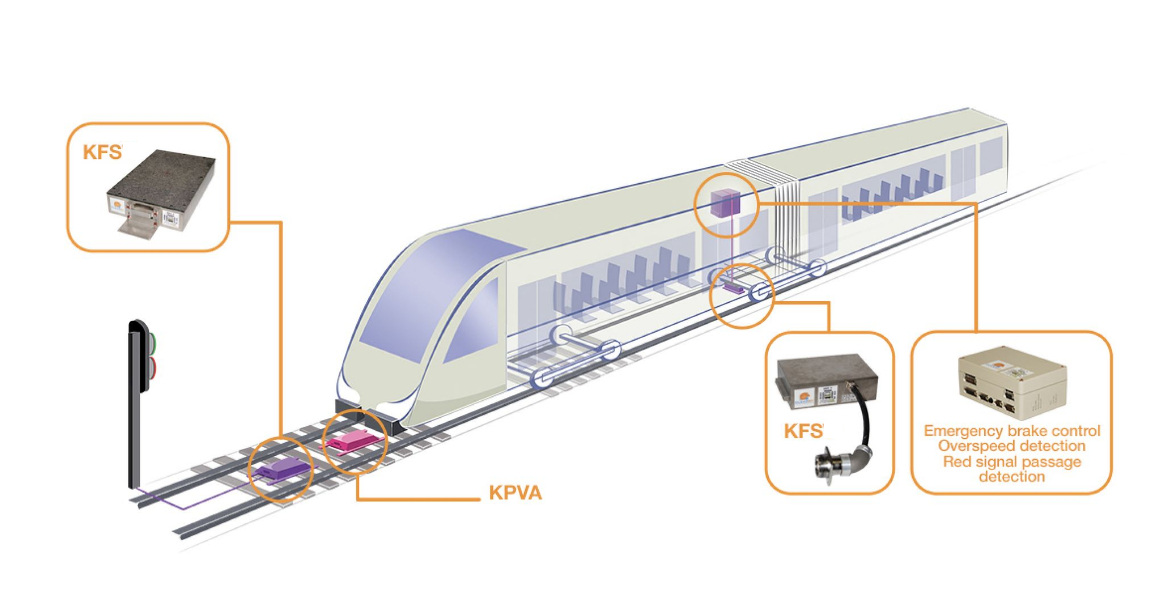 Train collision detection system is used to detect and prevent collision of two trains. Generally both trains determine their position and transmit it to the system controller (Anti Collision Device – ACD).
ATP (Automatic Train Protection) is a similar system,  installed in trains in order to help prevent collisions if a driver fails when observing a signal or speed restriction.
CLEARSY develops Automatic Train Stop (ATS) systems (named KFS) which stop (emergency brake) the train when it crosses over a closed signal or when its speed is over a predetermined limit.
Presentation
These CLEARSY's automatic train braking systems don't need train location information and don't need any train localization system installation. It's only necessary to install one beacon connected to the signal, or one beacon detecting train speed (radar) where it's installed. So, KFS system is very simple to install and avoid to install a CBTC. Safety level is SIL2 for the ATS.
Embedded sensors (similar as RPS beacon) are connected to the train braking system.
History crossing and speed control system
The RPS system (punctual signals repeating) is a system designed to ensure assimilation by the driver of the state of the lateral signaling. It adds a sound information to the visual signals information . This system, also known as "crocodile", appeared in 1872 and is still in use. The principle is simple: a change in the track signal status to the driver's cab of a train triggers an alarm that the driver must respond to within 5 seconds, otherwise the emergency brake is triggered. At its beginning, the system consists of a simple metal bar on the track, polarized according to the signal state, and a brush on the train that rubs on the metal bar to retrieve the state.
Over time, the system is enriched with a more efficient transmission between track and train. Indeed, the metal bar is replaced by an electromagnetic tag which sends different frequencies (usually 3) to a tag on board. The combination of these frequencies allows different actions (braking, pantograph motion ….). This development led to the creation of independent functions. Several independent RPS systems have emerged, with different control and operation, but always aiming to the train stop (ATS). We have for example the speed control, called KVB by SNCF on the Paris-Tours and Paris-Toulouse lines for example, and KPVA at RATP. The KFS is part of the signal crossing control systems.
There are similar systems (Indusi / PZB Germany, AWS and TPWS England ASFA Spain …) who all have a different mode of operation, but similar functionality. To solve the problems of inter-compatibility of trains and networks, the RPS system will be normalized in the ERTMS system.
Offers
Link to this thematic
Components
Linked to this thematic