CLEARSY Safety Platform is available in 2 configurations: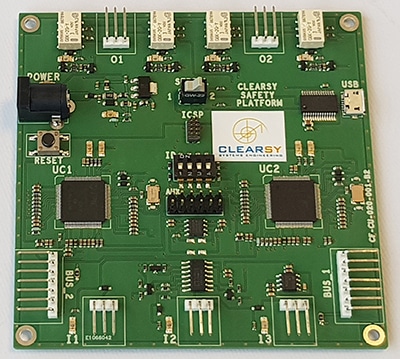 This fully functional board includes 2 processors, 512 Ko Flash, 128 Ko RAM, 3 digital inputs and 2 digital outputs. It is programmed with the Atelier CLEARSY Safety Platform IDE.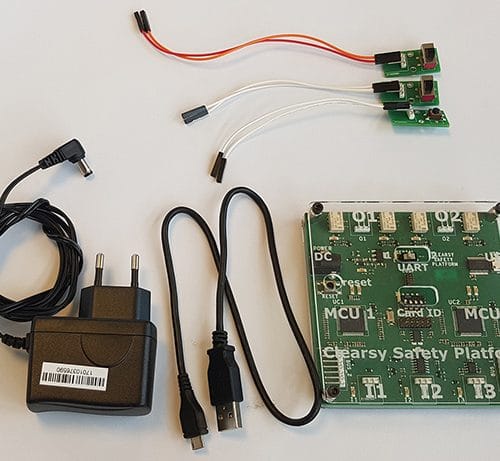 Adequate for instant practice. It includes:
1 pre-assembled SK0 board (Plexiglas with serigraphy, struts),
1 power supply 5V,
1 micro USB cable,
3 switches
| Quantity | x1 | x10 |
| --- | --- | --- |
| SK0 board standard | 275€ | 2 500€ |
| SK0 board with accessories | 325€ | 2 900€ |
Prices are VAT excluded. Shipping fees are not included. They are 50€ for 1 or 10 boards in Europe. For other quantity or destination, please contact us.
Each SK0 board is provided with:
Its electronic documentation (PDF),
The Software Development Environment (Atelier CLEARSY Safety Platform). It includes a formal modelling environment supporting the B language, a double toolchain for compilation and a bootloader to upload software on the SK0 board. A recent WIndows operating system is required.
Our CLEARSY Safety Platform products are entirely produced in France.
To receive a quotation, please fill the form below. We will reply as soon as possible.
SK0 board with accessories
Pre-assembled SK0 board (Plexiglas with serigraphy, struts)